Mission Statement for Sunday School
The Sunday School Ministry of Morning Star Baptist Church exist to train up children in the ways of the Lord and to develop and equip men and women for ministry as servant leaders in the body of Christ and the world at large, through being a community that is committed to Scripture, Spiritual Maturity, Prayer, Fellowship, Stewardship, and Discipleship.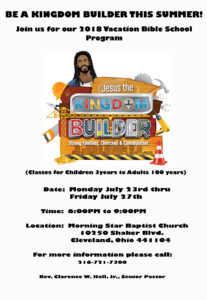 For children and adults of all ages. Register early while there's room!